Equipment
Portable, Powerful and Pleasing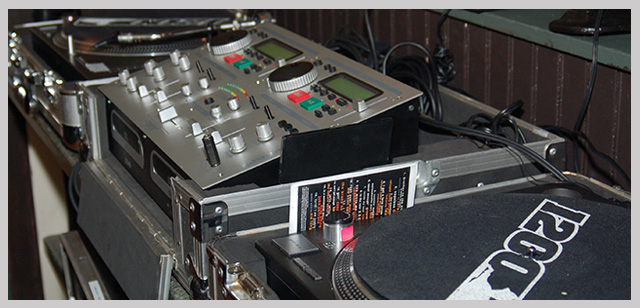 Simple, vibrant and sufficient for any occasion.
The heart of this system is a pair of the legendary Bose 802 Series II loudspeakers with the companion 502 BP Subwoofer. After years of fiddling and messing with various configurations this is, in my humble opinion, is the one of the top of the line mobile setups in the business.
My system is expandable according to the size of your party and the venue where it is held. For all you geeks here's what I got:
Two Bose 802 Series II loudspeakers
A Bose 502 BP Sub-woofer
Two Technics SL 1210mk2 Turntables
Two Ortofon Pro Black Phono Cartridges
A Numark CDMIX 3 Dual CD player/mixer
A Shure UT2-VM wireless microphone with a SM 58 Element
A BBE 482 Sonic Maximizer
A dbx Series Two #215 Equalizer
A Mackie M 800 Power Amplifier
A QSC PLX 1202 Power Amplifier
My Basic Set up is supplemented with the following equipment:
Two additional Bose 802 Series II loudspeakers
Three Electro Voice EV 100 Speakers
A Crown Power Base-One Amplifier
An Alesis PicoVerb Reverb Processor
A Fender Passport P-150 (a stand alone additional portable sound system used for ceremonies, cocktail hours and small receptions)
For small bands and performers the following equipment is available:
Two Mackie 1202 VlZ Pro Mixing boards
A dbx 1215 Graphic Equalizer
A Lexicon MPX 110 Reverb Processor
A dbx 166XL Compressor/Limiter/Gate
Lots and lots of Shure SM 58 Microphones
Extra Stuff for back-up and multiple set-ups:
Two Technics 1200 MK2 turntables
Two Denon DJ DP DJ 101 Digital turntables
A Denon DN X400 digital DJ Mixer
Two Stanton S.300 CD/MP3 Players
Top of the line gear for top of the line parties.